Costumed Programs: Stretch Your Imagination
Mary moved to Anoka in 1861 at the age of four and lived the next 75 years in what became known as the Woodbury house on Ferry St. (now the Mad Hatter Restaurant). Join Mary reincarnated as she tells tales of old Anoka, confesses the troubles she and her brother caused, and how she saw the town change from her place on the river.
They found Mary Fridley Price (yes part of the family the city of Fridley is named after) at the bottom of a cliff in 1914. Was it an accident, or murder? This event recreates her husband Fred's trial, complete with coroners report, an extra wife and mistress, and surprise revelations.
Interactive program, best experienced with a group of 8 or more.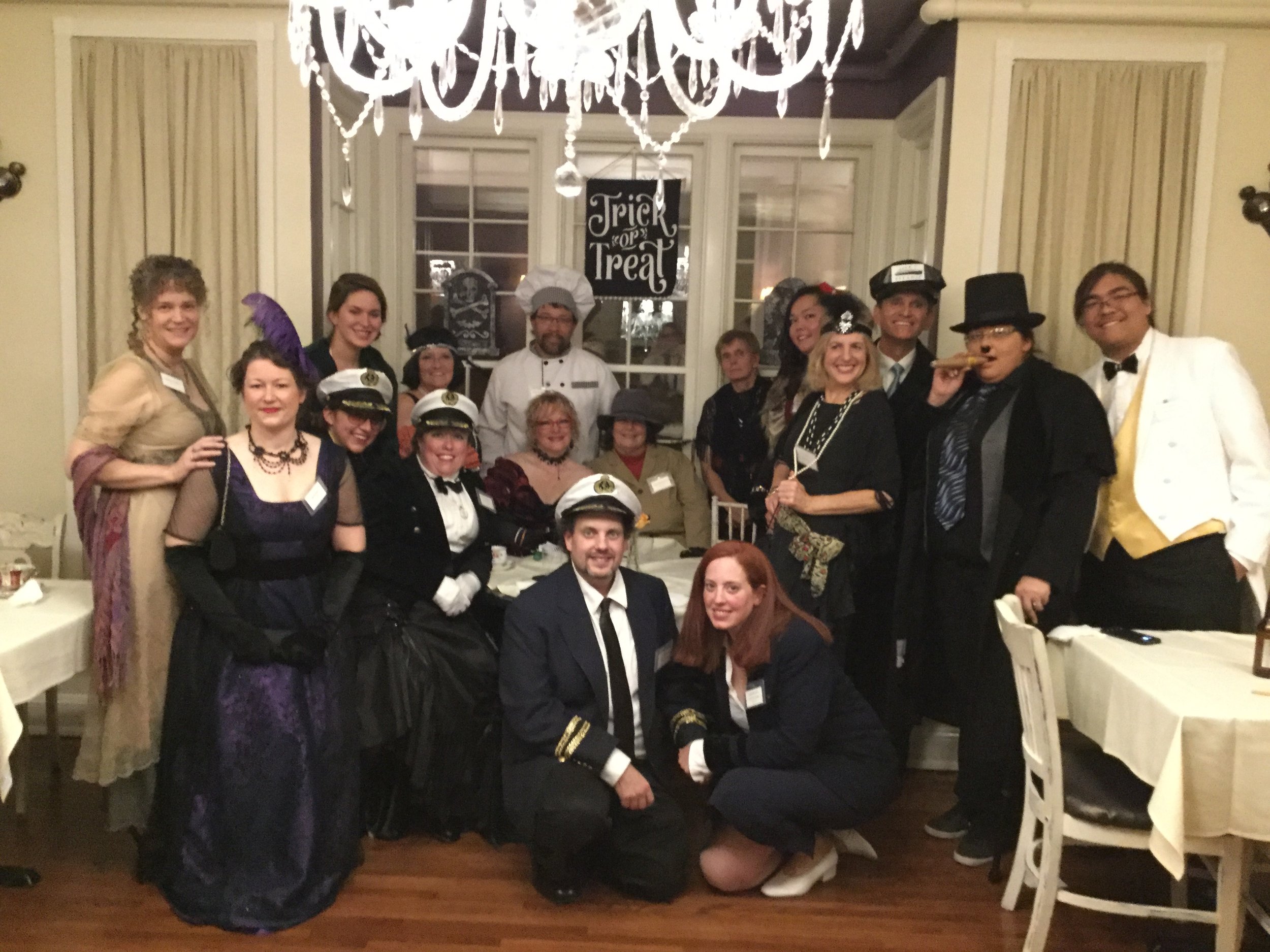 Both "Murder at Sea" and "Hollywood Lies" begin with a completely expected, yet shocking, murder. Can the murderer be caught and their secrets unearthed before the clock runs out? Each guest plays a character for the evening and receives information prior to the event.
Best experienced with a group of 16 to 33.
Stories abound in Anoka of odd happenings and eerie encounters. Our costumed tour guides will take you on a walk through historic neighborhoods of Anoka, sharing stories of the past along the way.
Sixty percent history, 40 percent folklore; these stories are just part of the fun you will experience on your Ghosts of Anoka tour!
Schedule a private tour for your group of 15-25 or join the the fun at our scheduled tours in September and October.
Civil War and Life at Home
Presented by a presenter in the best of 1860s fashion this program provides a hand-on approach to a discussion of the Civil War. Take a look at the Civil War through the lives of the soldiers and the people who lived in Anoka County. Stories of Minnesota troops and their misconceptions, adventures, and disappointments during the turbulent years of war help people of all ages gain a basic understanding of the Civil War from a Minnesota point of view.
With a presented dressed out of time, the audience will look at the history of clothing worn in the mid to late 19th century. Follow women's fashions from the sewing machine to ready-made clothing that came from the mail order catalog. The influences on fashion from political, social, and etiquette issues provide a glimpse at how our foremothers dressed and why. The program also features hands-on pieces of period clothing and allows guests to explore fashion from the past. Though focused on women's clothing—it changed the most—the influence of men on style is included and makes this program fun for everyone.
1920s Prohibition
Geared towards kids, this program includes a presenter dressed in 1920s fashion who shares what Anoka County (its people, places and schools) looked like during this era and tells a shortened story of Prohibition.
Dr. Flora Aldrich moved to Anoka with her husband, Dr. Alanson Aldrich in the late 1800s and broke the mold as she set up a practice in her home for women and children. Invite a reincarnation of Flora to your event to speak on health, suffrage, her writing career and what the city of Anoka was like in the early 20th century.